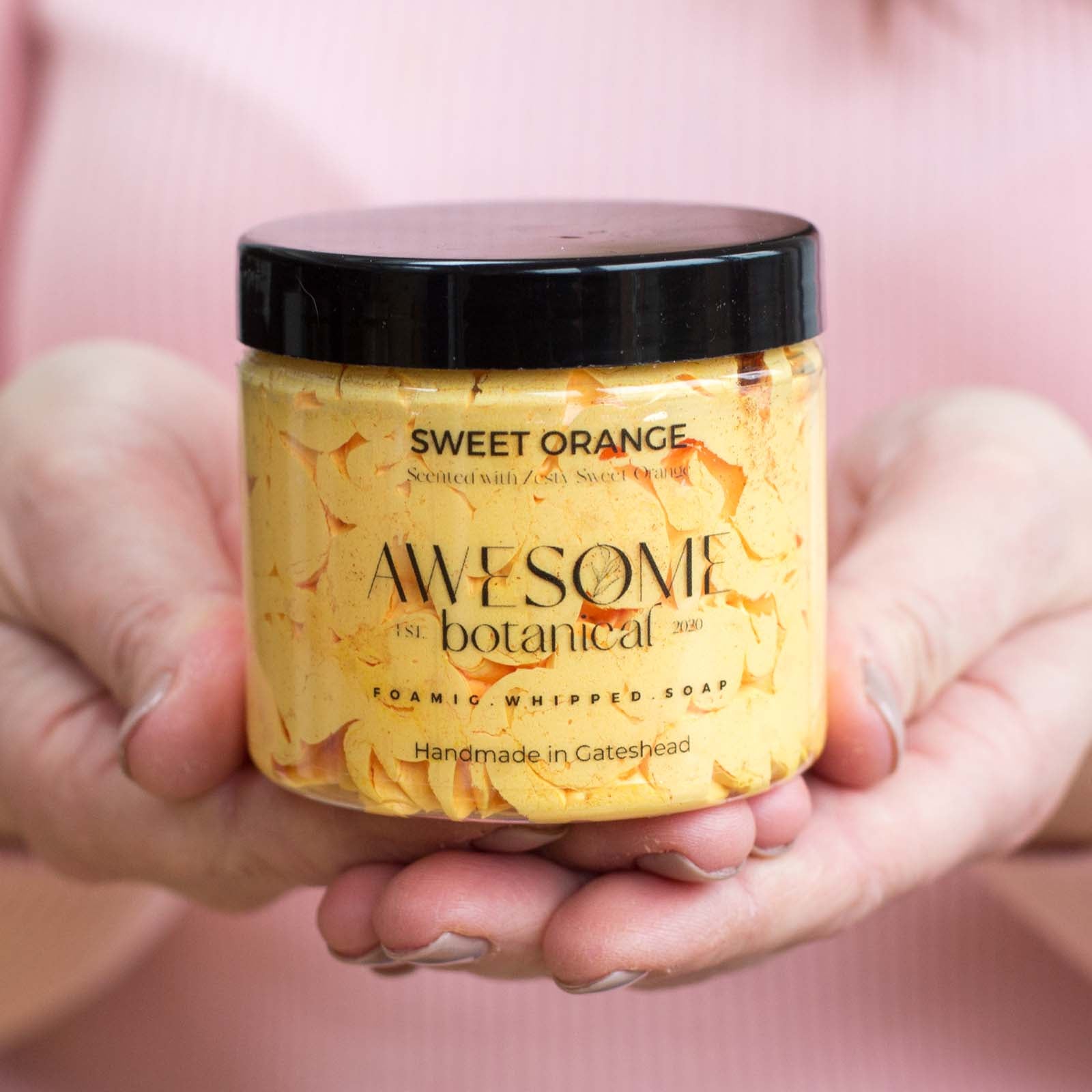 Sweet Orange Whipped Soap
Luxuriate in the uplifting aroma of zesty sweet orange with our fluffy, creamy Sweet Orange Whipped Soap.
 OVERVIEW
 Our Sweet Orange Foaming Whipped Soap is infused with divine-smelling sweet orange essential oil, then sprinkled with glitter to give a zesty sparkle to your shower. Whipped to a fluffy, luxurious consistency, it produces amazing lather so you feel clean and refreshed. Naturally vitamin-chocked Apricot Kernel Oil leaves your deeply moisturised and nourished. What could be better?
WHIPPED SOAP FEATURES
 Silky, luxurious feel
Nourishing and moisturizing
Light, fluffy consistency
Creates a rich lather
Beautifies your shower
DESCRIPTION
Beautify your shower with our vibrant, velvety Sweet Orange Whipped Soap. It's a glittery pop of color that will make you smile every time you enter your shower. As you lather the shower foam, essential oils release and rise in the steam — like an aromatherapy session every time you use it!
Sweet Orange Essential Oil (Citrus Aurantium) is the same oil expressed when you peel the natural fruit in your hands. It is rich in nutritious Vitamins A, B, and C. It is also known for its high Limonene and Myrcene content — some of the best antioxidants to protect your skin. .
Apricot Kernel Oil is a natural skin elixir of Vitamins A, B, and  E. It contains a naturally high content of both Linoleic Acid and Oleic Acid, which are naturally-occurring emollients believed to have skin-loving benefits. Your skin will appear more moisturized and hydrated.
 With such healthy ingredients and no artificial perfumes or fragrances, your skin will love you for it! 
How to Use 
Use your fingers to scoop a dollop (a little goes a long way) of the shower whip onto your loofah. Work into a rich, creamy lather. Cleanse by massaging gently with the loofah. Breathe deeply, inhaling the delightful aroma. Think sparkly thoughts, then rinse.
Ingredients
Ingredients; Glycerin, Aqua, Sorbitol, Sodium Cocoyl Isethionate, Disodium Lauryl Sulfosuccinate, Sodium Chloride, Prunus Armeniaca (Apricot) Kernel Oil, Cocamidopropyl Betaine, Citrus Aurantium Dulcis Peel Oil, Phenoxyethanol, Tetrasodium EDTA, CI 12490, CI 11680, CI19140, Fluorphlogopite, CI77491. Allergens - Limonene.
Share
Amazing!
This whipped soap is simply amazing: the smell, the texture, the way my skin feels after using the product is next level! Highly recommend!
Sublime orange bliss
I love the whipped soap. Tried this and the texture is wonderful and it smells amazing. Skin felt soft and hydrated afterwards ❤️
I ordered a lucky dip box and received a hazy mauve whipped soap - I want to try them all now!
Absolutely LOVE the Sweet Orange Whipped Soap!
Smells incredible, works up to a lovely lather, feels silky smooth on the skin, leaves skin feeling soft and smelling great! I'd definitely recommend! Thank you!
Lovely product-amazing scent!
Love the scent and texture of this product. It lathers up beautifully in the shower and you don't have to use much each time, so it is also long-lasting. The scent is fresh and lingers for a long time after showering. I would definitely recommend this product.