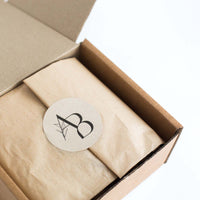 Add this Gift Box to you order along with your products and any gift message you would like. These can also be sent direct to the recipient . 
All of our gift boxes come with Eco Friendly String & Gift Tag with a place for To & From
Small Gift Box - You can add up to 4 items + 1 Lip / Nail Cuticle Balm
Midi Gift Box - You can add up to 6 items 
NB: This is an empty gift box for you to add your own selection of products too it, we will then assemble the gift box with your chosen products and ship it for you.