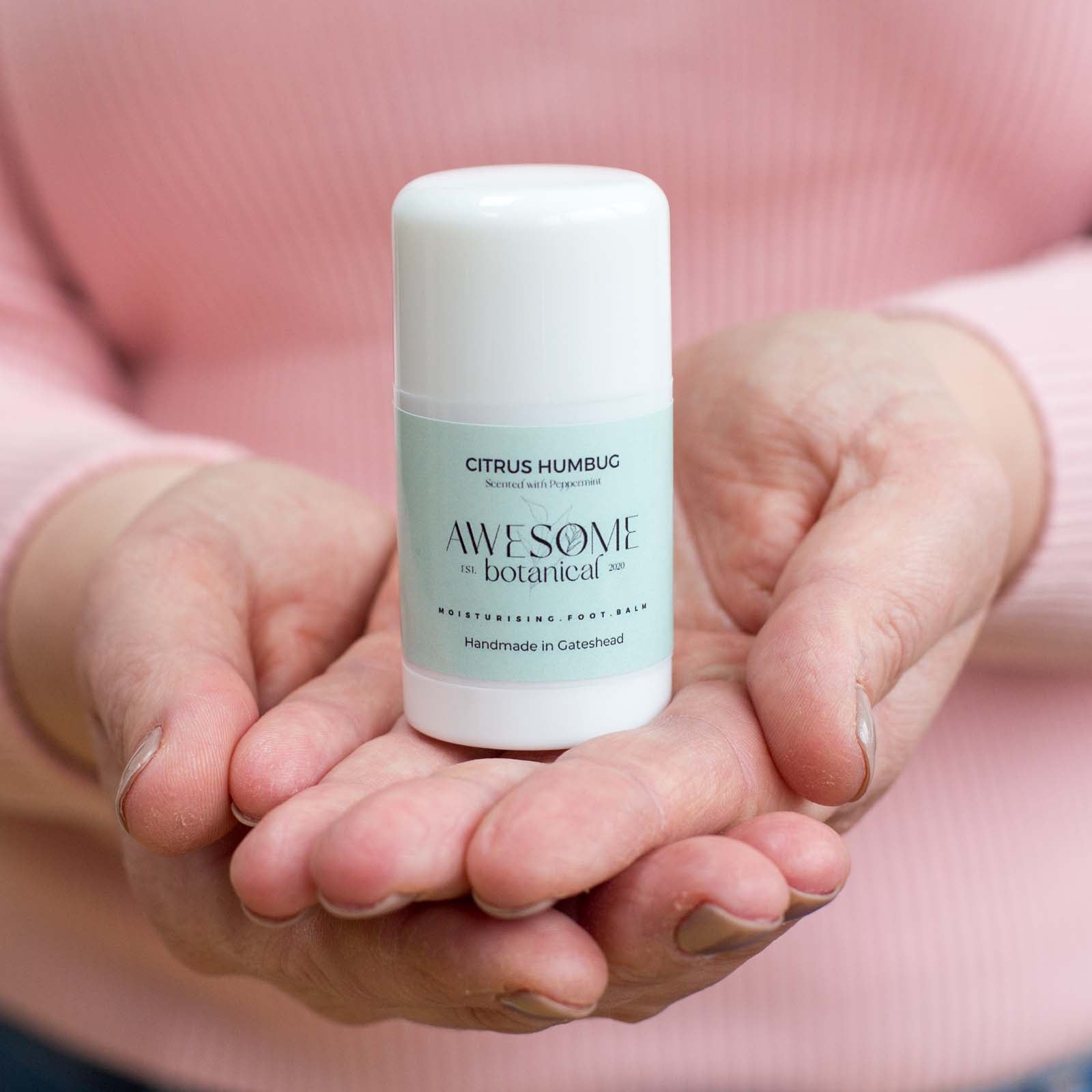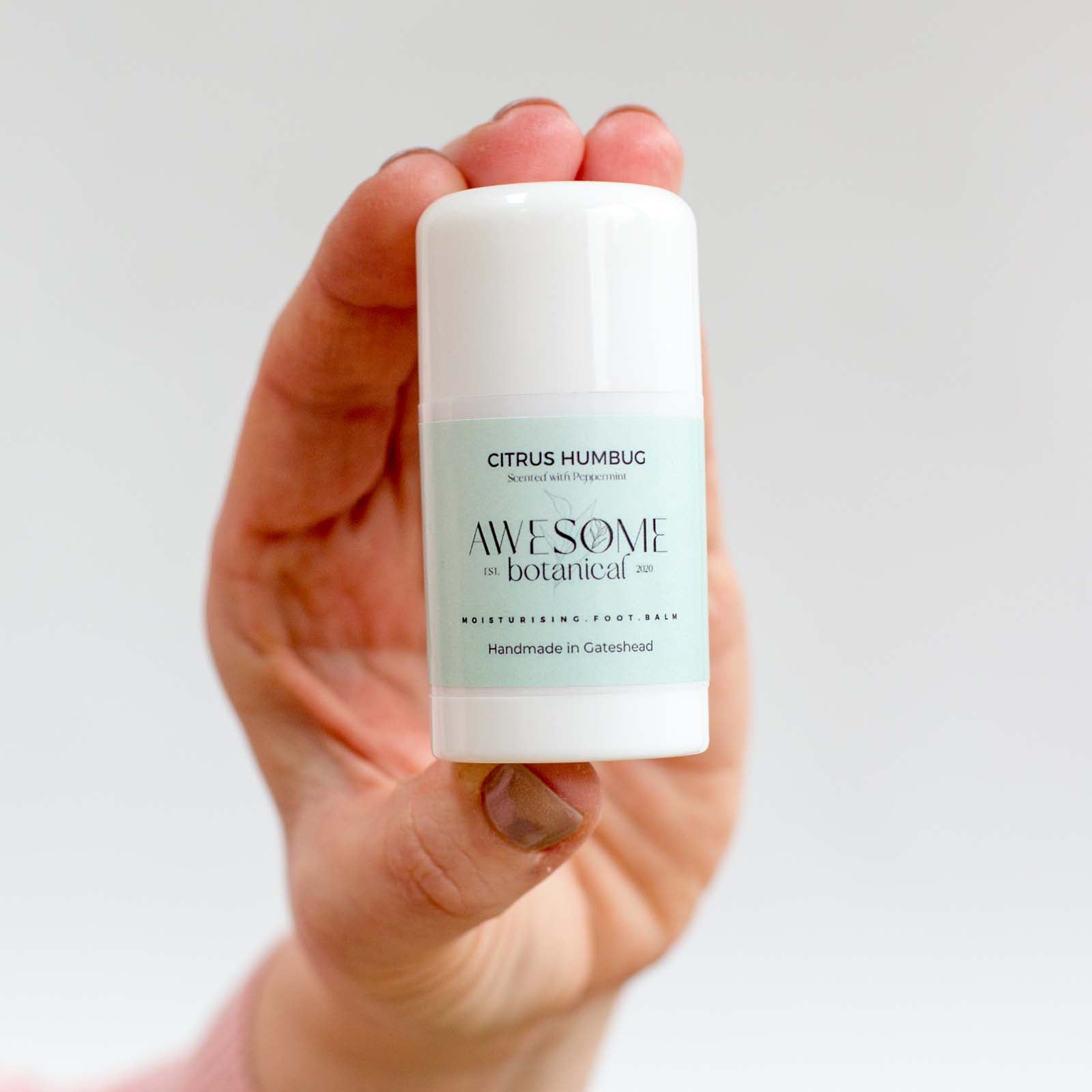 Natural Foot Balm - Citrus Humbug Foot Balm
Natural Foot Balm - Citrus Humbug Foot Balm
Give your dry cracked heels & feet the TLC they deserve with our Natural Foot Balm.
Our natural foot balm was shortlisted in the 2021 Top Sante UK Body Care Awards, It's a nightly must-have packed with nourishing natural ingredients that you will want to use every night.
Our natural foot balm will bring an intense burst of moisture to your dry cracked heels and feet. Infused with a luxurious blend of Lemon & Peppermint essential oils that will revive and energise your feet. Be sure to add our Natural Foot  Balm to your daily self-care routine to soften the skin on your dry cracked heels.
How to use our Natural Foot Balm
We recommend for maximum results that you apply this little tube of natural goodness to your feet right before bed. The natural butters & oils will work there magic on your dry or cracked feet and heels all night long. 
If you really want to keep those feet it tip top condition, try our Humbug Epsom Salt Foot Soak and give your feet a pedicure before use. 
Awesome Botanical Natural Foot Balm is the one product you will want to keep on your bedside table. 
Enriched with a Luxurious Blend of Peppermint & Lemon Essential Oil 

Intense hydration for dry cracked heels

Revive & Energise Active Feet with our Natural Foot & Heel Balm

Ideal for dry feet or heels
As recommended by Pamela who gave our Natural Foot & Heel Balm a fantastic 5 stars praising the way the miracle balm cleared up the dry skin on her heels. 
What are the Ingredients of the Natural Foot Balm?

Bee's Wax (Cera Alba) 
Rich in Vitamin A Bees Wax helps your skin to maintain its natural moisture. It can help with the exfoliation & rejuvenation of the skins Appearance. 
Cocoa Butter (T
heobroma Cacao Seed Butter)
Is a natural moisturiser which is rich in vitamins and minerals, its is great for dealing with dry cracked heels. 
Shea Butter 
Soothes and hydrates your dry feet. It's rich in antioxidants, including vitamin F, which is found in high quantities  and is the rejuvenator for dry feet. 
Peppermint Essential Oil 
Has antiseptic & antibacterial properties, With 30-45% Menthol content this is what gives it a cooling effect.
Lemon Essential Oil 
Produced in the beautiful hills of Sicily it is Rich in Vitamin A, B & C. Great for re-energising your feet.  
What is the full list of Ingredients of the Natural Foot Balm?
Cera Alba, Prunus Armeniaca Kernal Oil, Theobroma Cacao Seed Butter,
Butyrospermum parkii butter, Tocopherol, Citrus Limon Peel Oil, Mentha Piperita Oil. Allergens - Citral, Geraniol, Limonene, Linalool.



Share
Refreshing feet
Lovely smell, lovely feel. Will be packing in my case as walk miles on holiday and this will be a must
Lovely lovely product
This feels lovely when you're rubbing it into your feet, not sure I'm using it too consistently to see a difference yet!
Foot balm miracle!
I bought the foot balm last week and have used it every night since and my feet are so much better already! They really were in an awful state and now I'm not longer embarrassed to go bare feet! I love that the applicator means I don't have to touch my ticklish feet too! Thank you so much. It's wonderful stuff!
The foot balm is lovely it smells amazing and made my feet feel really pampered. I highly recommend awesome botanicals .
Cannot recommend this enough!
Absolutely love this foot balm - there was a clear difference after just one application, and after a week of using it I honestly don't think my feet have ever looked or felt this good! Cannot recommend it enough. The salt foot soak is wonderful too!